TOP UP KIT - SOR Toolkit (Sounds Of Reading) Level 5/6 - Parent/Tutor Kit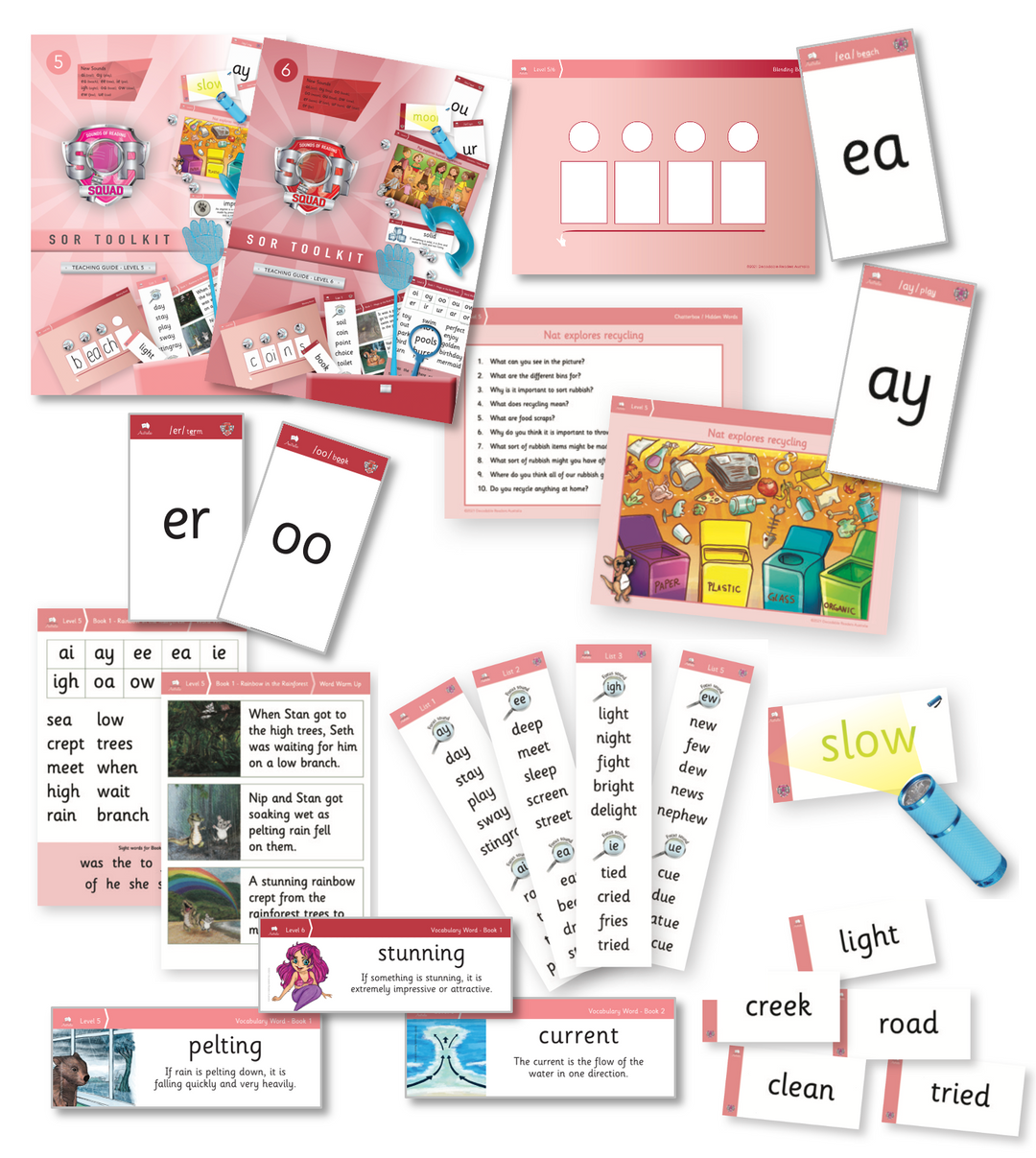 $250.00

AUD
AUD
This kit is the Top Up kit of our SOR Toolkits. This ultimate phonics toolkit has the printable materials that teachers require to implement a Systematic Synthetic Phonics approach, from explicit teaching guidelines and resources to multi-sensory practice and retrieval resources for students. This toolkit also covers the concepts/skills of Oral Language, Phonemic Awareness, Phonics, Fluency, Vocabulary, Comprehension, Spelling. These Toolkits are best used alongside our Main Fiction Series books (sold separately) These Toolkits are best used alongside our Main Fiction Series books (sold separately)
Level 5/6 Toolkit covers the sound set of Level 1, 2, 3, 4 sounds plus Level 5 and 6: ai, ay, ea, ee, ie, igh, oa, ow, ew, ue, oi, oy, oo (book), oo (moon), ou (loud), ow (cow), er, ir, ur, ar, or
What's included in Level 5/6 SOR Toolkit:
2 x Step by step teaching guide to support the teaching (Level 5 and 6). Teaching guide goes through developmental progressions - Learning speech sounds then progressing to words, sentence, text and finally fluency.
6 x Chatterbox Cards 
Phonemic Awareness Drills (drills in teaching guide)
1 x Set of Level 5 and 6 Teacher Phonics Cards. This includes Level 1, 2, 3 and 4 sounds.
40 x Word Blending Cards (in order of complexity building from CVC and CCVC/CVCC and beyond)
40 x double sided Spy Cards (completely invisible on one side and partially visible on the other side)
1 x Blending Board (double sided with 4 Elkonin boxes on one side and 6 Elkonin books on the other side for larger words)
4 double sided x Fluency Lists (1 copies of each list)
20 x Word Warm Up Cards (double sided) 1 copy of each. Each card is connected to the Level 5/6 books.
20 x Vocabulary Cards with a visual prompt of a Tier 2 word.
1 x Teacher Carry Bag
Take a virtual tour of what is included: https://youtu.be/z_FD4BrZ_cU 
PLEASE NOTE: This is a Top Up Kit and does not contain torches, magnifying glasses, sound counters, student bags, reading Race track mat or phonics phones